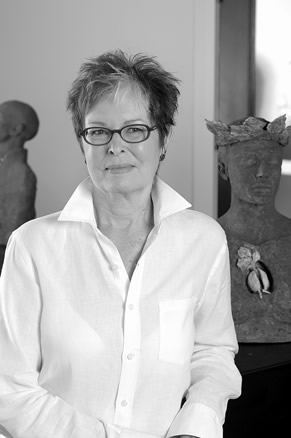 I have been working in clay for about twenty years. In that time, my work has evolved from raku-fired slab structures into the current three-dimensional figures, fired multiple times that you see on my website.
My work in clay both expresses and informs my own nature and way of looking at the world—as a woman, a student of ancient religions and mysticism, a lover of Earth, a mother, a Southerner, an explorer of human depths.
I learned clay while I was working as a relationship counselor in private practice. I had always dreamed of working in clay but never had any idea that I could actually LIVE my dream! When I learned of a raku artist who lived in my area, I apprenticed myself to her, and under her guidance I was soon off and running. My early pieces were slab constructions, raku-fired, lots of African motifs and flying women. I liked the dark undercolor that raku firing gave to the sculptures, the rough and unpredictable surfaces, and of course, the opportunity to PLAY WITH FIRE!
What followed was the crucial period of practice, practice, practice. I was selling my work through a cooperative gallery in Tucson. My work got larger and larger in scale, presenting challenging questions of physics as the weight increased. To develop the skills I needed, I chased down such masters of scale as Peter King and Peter Van den Berge for workshops and kept at it. My work had always featured playful, challenging, or pensive female figures, but with the Madonna, the figures were starting to expand beyond the depth of relief sculpture. They seemed to want to step more fully into the world.
Moving into three dimensions, then, has become my latest exploration, and working with the female figure has been my joy. Again: I have been blessed to learn from masters of the art of human figure sculpting: Paulo Lucchesi, Eugene Daub, Tone Orvik. I have moved from raku-fired glazes to washes of mineral stains and slips, fired repeatedly to build in those mysterious dark undertones along with matte color. Textures from African textiles, images from ancient mother goddess religions, Sanskrit, depth psychology and poetry all seem to have found their way into the works of the JOURNEY OF THE HEART series. In the EMERGING SERIES of figures currently underway, the surfaces are all rough natural textures—bark-like, lichen-y, stoney: and the figures are gazing out upon the world.
Stay tuned and we'll see what's up!